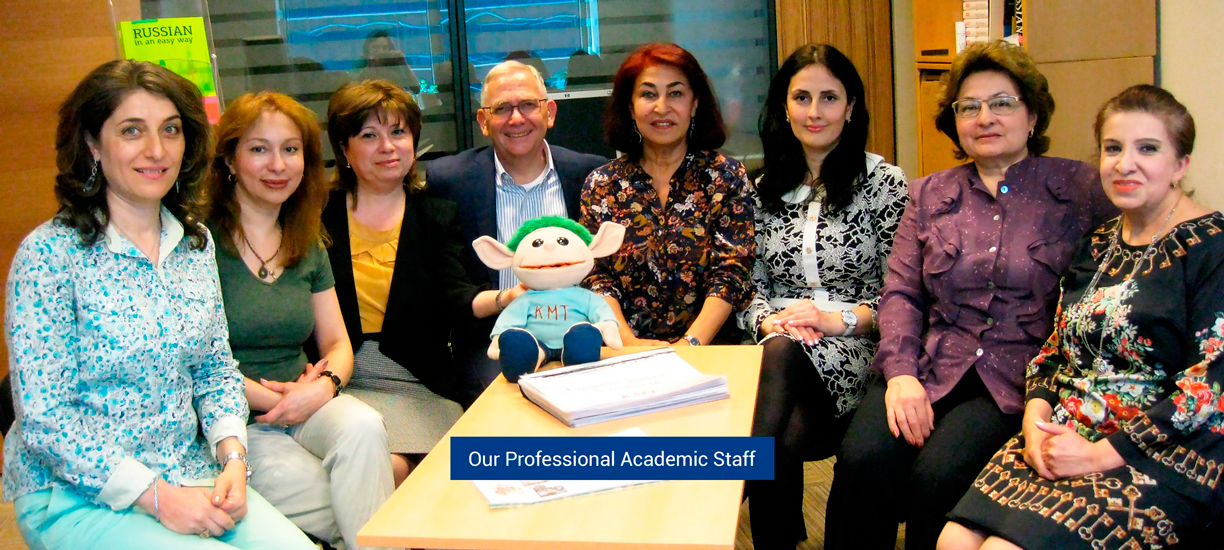 About Us
With more than 17 years experience and a wide range of Russian, Azerbaijani and English courses to suit almost every need, KMT has helped many hundreds of people to develop and improve their language skills. Whether for your work, study or just to feel more confident with the new language, why not contact us to find out how we can help you.
History
KMT (The initials "KMT" stand for the Azerbaijani words translated as "Communication, Culture, Technology") was established in 1999 as the result of the outsourcing of the language training section from the HR & Training Department of a large International Oil Company. It employs the former language teaching staff of that organization with their very successful experience in teaching languages to business people since 1992.
Since December 2003 KMT has become a member of the American Chamber of Commerce in Azerbaijan.

Since April 2011 KMT has become a member  of the International Association of Teachers of Russian Language and Literature (MAPRYAL)
Mission
KMT is a centre of language activity and cross-cultural information created to optimize the intellectual resources available from numerous teaching techniques around the world to support people at work. Effective tailored language learning means a better understanding of culture of the country where business is developing.

KMT provides awareness of cultural differences to support the International business environment.

KMT experience provides this level of integration to our students, facilitated by the best technology, the most advanced language-learning strategies, international recognized materials and taught by highly professional tutors.
Language Support
When you are enrolled in any KMT language course you can join the language training support events.
The KMT programs of language training take into consideration that during the language lessons, some aspects of the language itself and the culture of the country might be lost due to the limit of the material that can be included in the language program. Therefore our enthusiastic teachers arrange different out of class activities such as
Language Club
City Tours
Conversational Groups
Cooking Lessons
Visits to Baku theatres
Tours around regions of Azerbaijan
Method
At KMT languages are taught using the "Method of Active Teaching". The method is based on the some of the most advanced methodology and research methods of proven successful intensive foreign language learning. The method takes into consideration the age of students, the lack of time that business people can dedicate to language learning, and the often irregular attendance of students at lessons due to their business trips, meetings and work pressures.
Using this method and under the guidance of qualified teachers, KMT students can achieve effective everyday communication in their foreign language study in a short period of time.
Why choose KMT
You have a unique opportunity to be taught by the authors of internationally recognized text-books
We have more than 17 years experience in teaching people in working environment
All our courses are individually tailored
We can work in a flexible timetable
We support the language learning process with a lot of additional activities
We run Cultural Induction Courses that give visitors of Azerbaijan a vital cultural awareness to help avoid a cultural clash